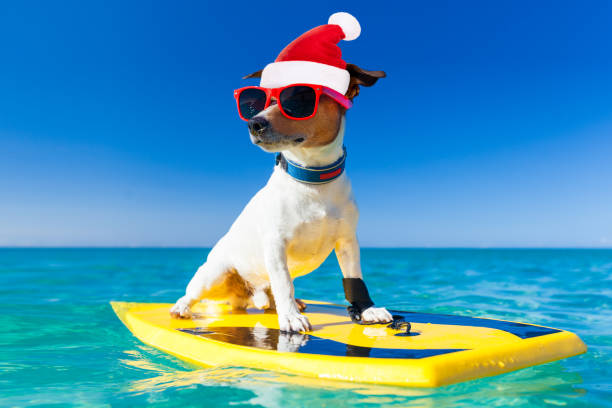 It might sound crazy, but you need to find out from your dog if he wants to go on holiday with you. He might not be able to tell you in human terms, but you can find out by his behaviour.
Hols or not?
Is he a dog that likes going on long journeys? Maybe he is too old to travel. If he does go on holiday with you, does he like crowded places? Does he want the quiet life or does he relish nice long walks? Will he be happy meeting other dogs on his travels? Is he a stay at home dog? Does he prefer a staycation to going abroad?
If your four-legged friend doesn't want to let on, then you have to take him to a dog behaviourist or trainer, who can help you to find out if he is a traveller and offer advice on how to adapt to a holiday that matches his needs.
The last thing you want to do is see your pet go AWOL And it can happen. A crowded pub, an environment the dog is not familiar with could stress him out big time.
Dog-friendly place a number one priority for your pooch
Once you have worked all this out, find yourself a dog friendly holiday. If it is in the UK, it might be worth contacting Dogs Trust Holidays.
This post contains affiliate links that I earn a small commission from at no cost to you. 
Among great locations in the UK for pets are: Yorkshire, Peak District, Lake District, New Forest, and Scottish Highlands. For city areas, if that is what you dog likes, Edinburgh was voted as the top place for dog friendly places.
So now that you know where you are going, it's time to work out what you need to put in your pooch's suitcase.
Here are a few items you may want to consider:
Take a collar with an identity tag showing your name, address and telephone number in case he gets lost.

Bring a lead and a harness.

Poo bags

Pet medication

Bathing towel

Blanket for dog to sleep on

Food bowl

Dog food, treats and water

If hot climate, dog sun screen
It's always worth checking that your dog is up-to-date with his vaccinations. You don't want your prized pooch suffering from fleas, ticks and worms. And make sure they are microchipped in case they wander off, never to be found.
Not all places like pets, so it is worth checking that out beforehand. Some are so friendly they may leave a bowl out for your dog, so that's one less item to pack. I recently spent time in a cottage in Wales and they were very pet friendly.
A bit of research is useful in these circumstances
Don't forget that you need to find a holiday spot that has dog-friendly restaurants, cafes, pubs, beaches, and other amenities. A bit of research will be useful.
When you take your dog for a walk, make sure you know the dog's limitations. Don't over-walk him. If you are uncertain, take him to the vet to get him checked out.
If you are taking your dog to the countryside, make sure you are aware of the animals he will come across. There might be cows, horses, sheep, pigs, who knows what? It might be an area you decide to avoid.
Plenty of exercise and toilet breaks needed
If you are taking your dog on a long car journey, test him out on a short journey to see how he copes. Make sure he gets plenty exercise and toilet breaks and, don't forget to strap him in.
Do some research and find some nice scenic routes that you can take in your car. If you are heading out to Northern Ireland, you may wish to consider the Causeway Coastal Route. Scotland is known for the Deeside Tourist Route, and England for The Lake District Loop.
If you want your dog to be happy with you on holiday, you need to follow some basic rules. One is that dogs love routine, so give it to them.
Dogs need 16-18 hours of sleep and rest
Secondly, dogs like at least 16-18 hours of rest and sleep, so do plan this into your schedule. Otherwise, your best friend may be horrible and grumpy companion.
Lastly, try not to leave him too long on his own. If you do, make sure he is comfortable.
If you are taking your dog to a European destination, he will need an Animal Health Certificate, not a pet passport. This you can get from your vet and it needs to be used within 10 days of it being issued.
To acquire one of these certificates, your dog must be:
Have a valid rabies vaccination (at least 21 days before travelling)

Had treatment for tapeworms

Been microchipped
The best advice is to check as different countries have different disease risks, and can advise you on  which vaccinations are needed. Also, check to see which breeds of dog are allowed into the country.
You might need a specialist, not just your local vet
For any travel outside of Europe, you may need to see a more specialist vet, who can help you out with an export health certificate (EHC).
Things to be aware of when travelling outside the UK:
You can take your pet on the Eurotunnel when travelling by car

Only assistance dogs are allowed to travel on Eurostar.

Ferries often allow dogs if you are travelling by car. You will have to make it comfortable as they will be expected to stay in the vehicle for a long period of time.

Most ferries allow dogs if you are travelling by car, but they must remain in the vehicle. Make sure they are comfortable spending time alone.

If you are going on a plane, it is likely that your dog will have to go in the hold. Speaking to a trainer may help prepare them for this stressful experience.

Airlines usually don't allow brachycephalic dogs due to their respiratory problems. Another mode of transport is advisable if possible.
For more information, call the Pet Travel Scheme helpline on 0370 241 1710.