WHEN I decided to come to Canada with my wife to spend our 25th wedding anniversary, I was looking for something exceptionally special that would take my breath away and be a memory that I could treasure for the rest of my life. Knowing that part of my journey would be going through the Rockies, I finally found the hotel of my dreams – the Fairmont Chateau in Lake Louise, located in Alberta's Banff National Park, a UNESCO World Heritage Site.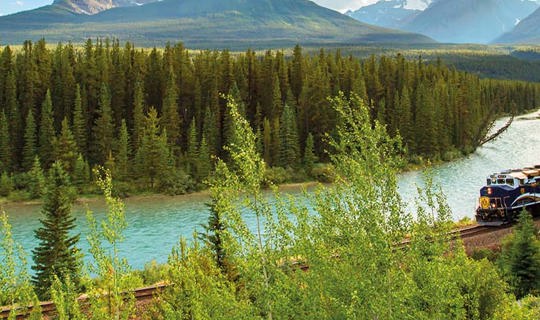 Fairytale castle and glacier peak views
Having spent more than a night on the Canadian, travelling from Vancouver, on a train which equalled that of Agatha Christie's fictional Orient Express, I was totally gobsmacked when I arrived at Lake Louise, to take in the view of what looked like a fairytale castle nestling between soaring mountain glacier peaks and a glistening emerald lake. Originally built for alpinists more than 100 years ago, I couldn't wait to get inside this 552 guest room hotel to see what more it had to offer.
Grand chandeliers and balustrade staircase
When we'd brought in our luggage into the lobby, we could not fail to notice its opulence – the grand chandeliers, high ceilings, wooden panels and the impressive balustrade-style staircase. The smiling concierge quickly took our details and in my enthusiasm I blurted out that I was celebrating my silver wedding anniversary. Immediately he congratulated us and upgraded our suite to the fourth floor where we could take in the full panoramic view of the lake.
Hotel generosity was second to none
Minutes later we had a knock on the door from the porter, wearing the trademark uniform of the hotel, which can best be described as a German-looking costume of a  long shorts and a trilby hat. He had helped us with our suitcases, and had now brought up a free bottle of wine, compliments of the hotel, and free tickets to go rowing on the lake. The porter, who I believe was Nepalese, was very friendly, and he didn't need to ask for a tip. He was given one without question for his impeccable service.
Scenic views that take your breath away
As we both sat in our luxurious accommodation and took in the scenic views, taking a sip of our wine, we had to pinch ourselves to make sure we were awake and not dreaming. The room was spacious with a table by the window where we sat in awe. The brown and grey colours in the room were warming, perhaps in some eyes maybe a bit dated, but everything looked immaculately clean.
Vintage bathroom with all the mod cons
The large bathroom looked vintage but with all the mod cons, and all the necessary amenities such as towels, shower caps, soaps and oral hygiene wash. We both had showers and I remember using some of the shower gel they supplied called Rose 31, which left a lovely scent. We also had the option of a bath, but skipped that it on this occasion.
We were fortunate to experience the Fairmont Chateau a few years prior the pandemic, so were able to enjoy it to the maximum – no masks, no social distancing, no sanitizer. Back then it was a different world, which I hope we will slowly return to. More salubrious guests to have stayed at the hotel in the past have included: Douglas Fairbanks, Mary Pickford, Marilyn Monroe and even Superman himself, the late Christopher Reeve.
Plenty gastronomic choices to be had
After checking out the bedroom, trying out the signature slippers and feeling the soft mattress and the smell of high-quality bed linen, we decided to venture down using an antique elevator  for a meal. The restaurant names may have changed since we went there about five years ago, but I remember opting for a pasta dish which I washed down with an ice cool beer. My wife had fish with salad with a glass of red wine. There was plenty of gastronomic choices at the hotel, and these days they include Swiss, Italian, Canadian cuisine, gourmet plates, tapas and fresh-baked foods.
Great place to have Afternoon Tea
The Fairmont prides itself by saying that its outdoor activities start directly outside its front door.  As soon as we stepped away from the revolving doors we could see the lake so opted for a leisurely walk around the edges of the lake, before heading down to the boathouse where we got into our rowing boat. Because we were there in May, just prior to the peak of the holiday season of July to September, we could have gone hiking and mountain biking, but because we were only there on a fleeting visit, we just didn't have time.
Take a day trip or go sledge riding
From the hotel there are at least half a dozen day trips that can be had, including a visit to the Caribou Lounge at Deer Lodge, a hike to the Lake Agnes Tea House and a visit to Laggan's Mountain Bakery and Delicatessan. In the winter months we could have gone cross-country skiing, sledge riding, snowmobiling, not to mention the nearby Lake Louise Ski Resort.
Canine ambassador at Fairmont
Something really nice that not every hotel offers is to meet with the hotel's canine ambassador. As we don't have a dog, we were looking forward to taking Marcus, a loveable labrador for a walk around the lake. The hotel allow you to walk their dog, but our only disappointment on our whole visit was that because we were staying over the weekend, Marcus was not available. Maybe next time.
We could have gone for a spa but decided to have an afternoon tea at the Fairview Restaurant. While eating our canapes we were able to look out on to the Lakeview Patio and further afield see the lake and the Victoria Glacier. It's always best to ask for a window seat if it gets busy and our luck was in.
Souvenir shopping at your fingertips
Before we left we ambled along the long corridors in the hotel where there were rows of shops offering everything from souvenirs to clothing, jewellery, cold drinks,  and snacks. Things were a bit pricey but we bought a couple of key rings.
Of all the hotels I have been in the world, Fairmont Chateau in Lake Louise, Canada, was certainly magical and would definitely be a place I would visit again.
Hotel: Fairmont Chateau,  111 Lake Louise Dr, Lake Louise, AB T0L 1E0, Canada
Star: Five Stars
Price: £404.26 a night at the time (two adults) Look out for special weekend deals
Built: More than 100 years old
Quality: Exceptional service and luxurious comfort
My rating: 10 out of 10