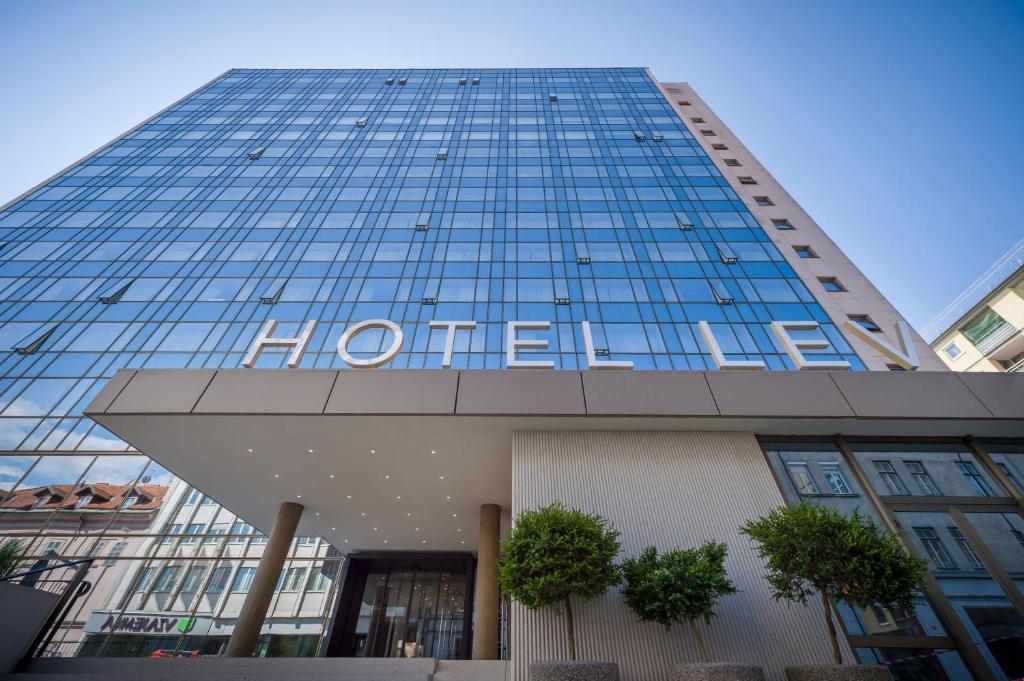 Accommodation: Hotel Lev, Vosnjakova 1, 1000 Ljubljana, Slovenia
Star: Four ****
Price: Double rooms from 75.20 Euros per night (special deals at weekends)
Built: Harks back to socialist era of Yugoslavia, opened in 1964
Quality: Fantastic breakfast and great location, has had 100s of excellent Amazon reviews from customers
My rating: 9 out of 10
WHEN it comes to hotels the first thing that you notice most when you walk into a room is whether it has been properly cleaned. And in Hotel Lev, our room, which was quite big, was spotlessly clean and it offered a great view of the Old Town and the 11th century Ljubljana Castle. If we'd wanted to, we could have opted for a room overlooking the greenery of Tivoli Park.
Old hotel with modern-day facilities
Located on the top floors, this four-star hotel, which has 200 bedrooms and suites was air conditioned, had a comfortable bed with fresh pillows and bed sheets, and a luxurious-looking bathroom. The ornate bed lamps proved useful when I needed to use the bathroom in the middle of the night. The room which had a decor of beige and brown offered free Wifi and also came with an impressive flat screen TV which featured several English-language channels, though our itinerary was so packed that we never got a chance to watch anything.
Staff make you feel welcome
When we arrived at the hotel, we were greeted with friendly staff, who were very professional, spoke excellent English, and quickly booked us in, before giving us the necessary directions to our room. Even though the hotel looked like it was from the old Communist-era of Yugoslavia, the hotel with its marble interior and beautiful chandeliers had an air of luxury about it, yet was warm and cosy. Listening in to the banter in the lobby from other guests, it gave the impression that this was a place you wanted to spend time in. Not only was it a home for tourists, but had more than adequate conference facilities for business travellers.
Lev is a lion among hotels in the capital
The word Lev in Slovenian means lion, and this place certainly gave the impression that its presence was that of a king among the hotels in the capital city. It was 450 yards from the Tivoli Park and 750 yards from Prešern Square, a major meeting point and part of the Old Town. Other tourist hotspots like Cankarjev dom and Ljubljana Fair could also be reached in 800 metres.  The railway station is a stone's throw away and there is car, bike and electric scooter availability.
We'd got to the hotel quite late so it was good to have a nice hot shower and then go down to the bistro bar in the lobby to try out their local beer  which impressed, before venturing out with my wife to Ljubljana, known as the 'city of love'. Having Croatian heritage, the next morning, I was keen to sample the complimentary breakfast which did not disappoint. The hotel offers: Continental, Italian, full English or Irish, vegetarian, gluten-free, American and buffet.
I went for the Continental, which included local delicacies such as prust ham, but the two bits of food that left a lasting impression on me was the house-baked bread and pastries which I could not get enough of, and the heavenly palacinke or pancakes, which were smothered in soft cheese. The coffee was also very good and there was plenty of fresh fruit. My only qualm was that we arrived a bit late but still managed to get our fill before the waiters started to clear the food promptly at 10am.
Considering we were in the heart of the Slovenian capital city, I thought the hotel, which was very family friendly and had  offered more than value for money. It was a shame we couldn't stay longer to enjoy all its facilities such as its well-equipped gym, spa and computer area. We also missed out on the hotel's signature restaurant Pri Levu, which features delicious seafood dishes such a lobster pasta and roast octopus.
Sightseeing hotspots a short walk away
Although we did not use the safe in our room, we did hear from a fellow tourist that it was not big enough to fit a 15-inch laptop and he wished it was fixed and not portable. We were also advised by a friend not to travel by car as the car park is very expensive and not easy to park in. Luckily as everything was within walking distance, all of of our sightseeing was done by foot.
Most tourist brochures recommend you spend at least a weekend to see Ljubljana and Lake Bled, four days if you want to add Triglav National Park and Predjama Castle to your list.
Church bell at Lake Bled will bring you luck
Lake Bled was one of the main reasons why we went to Slovenia. We took a coach from the bus station, not far from the hotel. for the 50 plus kilometre ride. Once we got there we got into a small boat and rowed to the island. Once we were there we climbed the hill to get to St Mary's Church where we rang the bell. Legend has it that by ringing the bell it brings you good luck.
Guests have been singer Luciano Pavarotti
Over the years since it first opened in 1964, the hotel has had many famous guests ranging from crime writer Agatha Christie to American actor Orson Welles, musicians such as Louis Armstrong, Bob Dylan, Sting and Luciano Pavarotti. Apart from the former and late president of Yugolavia Josip Broz Tito, it even accommodated the Apollo 5 astronaut team. Originally a five-star hotel and the first Inter-Continental Hotel in Slovenia, the hotel went through some major renovation in the 1990s and in 2000 an extension was added making it the largest hotel and conference centre in Ljubljana.
We only spent one night at the Lev Hotel because our next stop was to visit relatives in neighbouring Croatia. But for anyone visiting this beautiful city with its historic buildings and bridges, I would strongly recommend them to stay in this iconic hotel.