WHAT better gift to give your loved one than to whisk them away to Dublin, Ireland for a romantic Valentine's Day.
The first place to visit may be to pay homage to St Valentine who did so much to help courting couples. He lies buried in St Whitefriars Church, Dublin.
Valentine lived in Rome
Even though St Valentine lived in third century Rome, legend has it that when Emperor Claudius II made it illegal for single men to get married, because he felt unmarried men made better soldiers, a Catholic priest called Valentine married them secretly.
Help find the right one
Unfortunately he was eventually caught and executed. But thanks to the charm of an Irish priest, Father John Spratt, centuries later, his body was exhumed and brought to Dublin, as a gift to his fellow Irish men and women. Many single men and women come to prayer that he will help them find the right one. You can find St Whitefriars Church, at 56 Aungier Street, Dublin. Photo of St Valentine by blackfish.
The Irish like a drink
Whether you've found love or want to celebrate it with someone, after visiting St Valentine's shrine, you may be in need of a drink. Dublin has 751 pubs at last count, but you might want to get one on the house if you go to the Guinness Storehouse in St James's Gate Brewery, Dublin.
This post contains affiliate links that I earn a small commission from at no cost to you. 
Have a Guinness at the brewery
The Irish brewery will give you a tour of the place where you will cover seven floors starting with the story of Guinness, learning what ingredients go into the brew, tasting the Irish dry stout which certainly has an acquired taste, and eventually ending up on what's dubbed the "best roof top bar in Dublin" where you will be able to order your own round of drinks from the Gravity Bar. Guinness photo by Engin Akyurt
Cheers or 'sláinte' to having a good old time in Dublin
If you are still up for more liquid refreshments, and want to toast St Valentine with the Irish word for cheers 'sláinte', then you can take the lift back down to the ground floor and head towards Bow Street, and  Jameson's distillery, which prides itself as being the 'home of Irish whiskey'.  jamesonwhiskey.com
Hop on a green bus
Should you go on a tour bus later you may be surprised to find out that not everyone likes the taste of alcohol, as I did when I asked the bus tour guide. There are also groups in the country trying to curb drinking and the consequences of alcoholism.
See as much as you can in 24 or 48 hours
The Hop On Sightseeing Bus offers you a 24 or 48-hour ticket with some great commentary and it whizzes you past all the major sights including those mentioned as well as Trinity College, St Stephen's Green, and Kilmainham Gaol, famous for locking up those who fought for Irish independence. The bus is great value and lets you jump on and off as many times as you want over the period your ticket is valid.
Cosy up in a rooftop igloo with heaters and blankets
If you want to get another aerial view of the city, the AC Marriott Dublin and VASO's Rooftop Lounge can provide that service. They offer an igloo dining experience where electro-sprayed clendliness standards are given between guests. If you want to cosy up with your Valentine in an igloo then there is a two-hour reservation limit. A full VASO menu is provided, as are a server, blankets and a heater.
See the scars of history that led to independence
When you get to sending postcards, visit the main post office in O'Connell Street. Called the GPO, it  served as the headquarters for nationalists fighting for a free Irish state in the famous Easter Rising in 1916. Once you get your stamps, be sure to see the scares of that battle – the bullet holes that have been left there making the building a symbol of Irish nationalism.
Flowers, gifts and chocolates to complete your day
Apart from taking the love of your life to Dublin, don't forget to buy a card, gift, flowers and chocolates, or something extra special extra special to make your trip complete. One suggestion could be a unique love heart pendant necklace.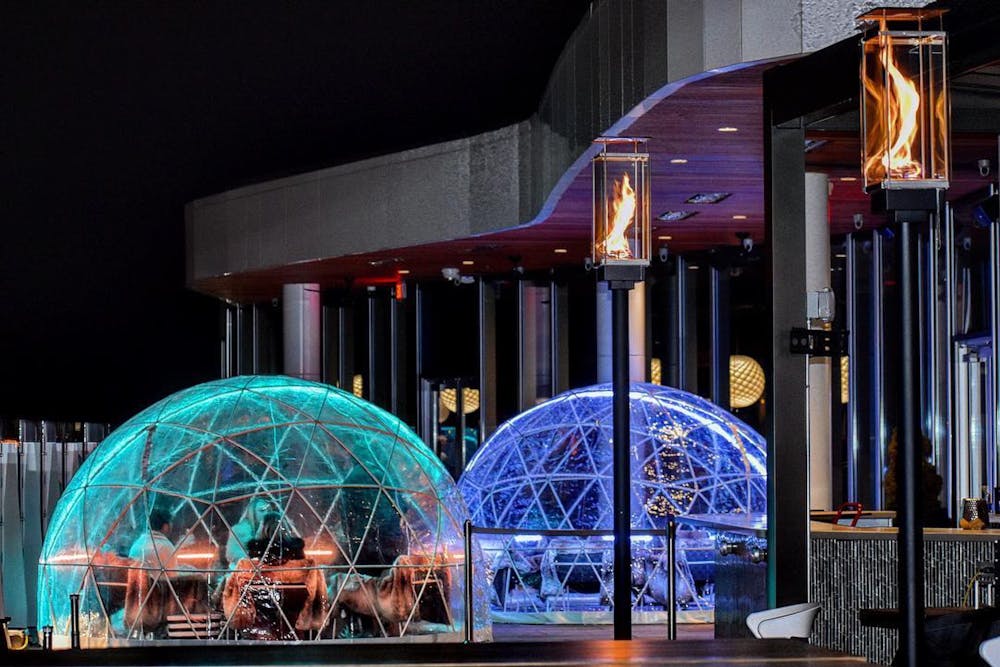 How to get to Dublin by plane
Before you even think of buying your ticket, don't forget to get some  travel insurance for peace of mind. If you are flying in from the UK, there are a number of airlines you can use. These include: EasyJet, FlyBE, Ryanair, Air France, British Airways, Aer Lingus, Eurowings, Emirates, Turkish Airlines and Norwegian. Duration time from London to Dublin is one hour and one minute.
Airlines from the USA include: Aer Lingus, United and Delta. Duration time from New York City to London is six hours and 25 minutes from JFK and La Guardia Airports.
If you have celebrated Valentine's Day in Dublin or have found the love of your life there, please let us know. We are always keen on getting your feedback in our comments section.