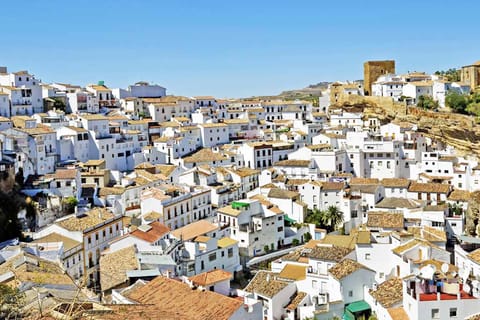 One of the most popular tourist destinations in Europe has to be Spain. Apart from its many sandy beaches with its turquoise crystal-clear water, it is steeped in culture, gastronomic delights, and cosmopolitan cities and villages. More than 31 million visitors travelled to Spain in 2021. Two years previously it was the second most visited country in the world with 83.7 million tourists.
  Spain has terrific weather with more than 300 days of sunshine a year. Leave those coats and jumpers in your suitcase for the return journey home. It's so hot, it's no wonder they can grow oranges and other fruits.
Unspoilt beaches sandy beaches and blue flags 
  Its unspoiled beaches are so clean it has earned them a reputation of having the most blue flags in the world. One of the top beaches is Costa Blanca with its white sands  as well as the Costa del Sol, Costa Calida, Almeria, Costa Brava and Costa Dorada. Make a trip to Seville, the capital of Andalucia and the white towns of Andalucia. The place gives you a chance to unwind and soak up the sun.
Gastronomic delights like paella and seafood
If you are looking for good healthy food then Spain is your place. The country has lots of top-notch city restaurants, and for those venturing out to the suburbs and countryside, cafes and live tapas bars with traditional dishes like paella, chorizo and seafood.
  On top of that you have some great markets in the world including El Encants Vells, Barcelona's oldest flea market, dating back to the 14th century. It has more than 500 stalls ranging from antiques to vintage clothes with views of the Agbar Tower. It is open Mondays, Wednesdays, Fridays and Saturdays: 9am – 8pm.
Markets aplenty with lots to offer and more
  Another one to consider if you are in Valencia is Mercado Central. Known as an Art Nouveau-style market, it has more than 1,000 stalls selling a variety of local produce and delicacies. 
  Founded more than a century ago, the beautiful building is a joy to see with its mosaics, stained glass windows, domes and iron fixtures.
Fresh vegetables in stained glass surroundings
  The market has an abundance of fresh fruit, vegetables, meats, cheeses and wines. It is also finds itself surrounded by restaurants and good bistros. Locals often frequent this market to shop for fresh vegetables, fruit, meat, wines, and cheeses. There are many reputable restaurants and bistros surrounding Mercado Central, where you get to enjoy Spanish fare such as jamón ibérico, paella, churros, and sangria.
Place where you've just scratched the surface
There's so much to see and visit in Spain. One of my favorite places is Barcelona. Look out for the architecture of Antoni Gaudí, the La Sagrada Familia basilica (see photo), Park Güell and Casa Battló. Book a flight now to Spain and you won't regret it – and travel to the place where millions have tread before.