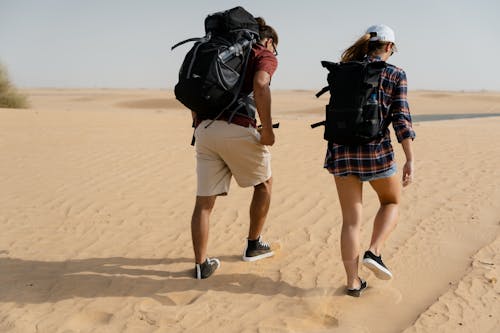 The best way for a an older person to carry items is to use a backpack, as that allows them to distribute whatever they are carrying evenly. So let's find the best backpack for senior out now.
In general, lightweight backpacks are recommended for senior citizens, but for those more adventurous, a loaded backpack should not weigh more than 20 per cent of your body weight. Therefore, if you weigh 150 pounds, your pack should not exceed more than 30 pounds.
Lightweight backpacks are popular because they have hip belts and sternum straps. Others can be converted into a wheeled backpack for those that have issues with their shoulders or back.
Enjoy a day out with the right choice backpack
Backpacks come in all shapes and sizes and are equipped for different modes of travel. Usually most backpacks can carry loads ranging from 10L (2.5 gal) to 35L (9 gal) but for the popular brands of backpacks, they can hold up to 20-30L (5-8 gal) of a load. Choosing the right one can help a senior enjoy their day out with the minimum of discomfort.
Weight and waterproof is what you need to consider
The choice of backpack will be determined by certain factors. These can be everything from the type of material your backpack is – does it need to be waterproof? Or, what is being carried, the weight of it, and the activity. Even if you have a waterproof backpack, I would still strongly recommend that you bag it up with a zip before putting it in the backpack for extra protection.
Think before you go on that short walk or long hike
You may be going for a short walk, a longer hike or quite a bit of travelling which may need you lifting things up, if say, for example, you are boarding a plane, and need to put it into an overhead storage compartment above your seat. All these considerations need to be taken into account.
Hard-wearing and enduring is the right answer
The types of backpacks you should be looking for include: lightweight backpacks for short journeys and for running around; to hiking and travel backpacks which are more hard-wearing and enduring.
Things to look out for:
Wide, padded straps which cause less discomfort
Don't go for a backpack with too many compartments, but one with a few, so that you have easy access for what you are looking for
Backpacks that weigh one to two pounds which are lighter to carry and give less back and shoulder pain
Backpacks with a waterproof cover in case it rains
Wheeled backpack give you that extra option if you are struggling to carry something
Sternum straps on backpacks which go across the chest disperse the weight of whatever you are carrying and reduce the pressure on your shoulders.
Hip belts do the same thing, but also provide you with easy access pockets wherein you can store your smartphone, snacks, sunscreen, lip balm, and any other small accessories.
One that has a water bottle holder in case you get dehydrated. Some of the lighter backpacks don't have them.
Whatever takes your fancy and you choose to buy, I will earn a small commission, which will not affect your price.
This black lightweight backpack is only 30L heavy. It's ideal for outdoor camping and hiking  for both men and women and it is water resistant as it is made with nylon. Or you could go for the ultra-lightweight eco-friendly yellow Lyknya, with its roll top.
Conclusion
At the end of
the day, comfort has to come first when travelling whether you are a young person or a senior citizen. So, it is worth asking the questions first, so that you don't come home with back or shoulder injuries. Enjoy your trip, and if you have any travelling experiences that you want to share, please let us know.