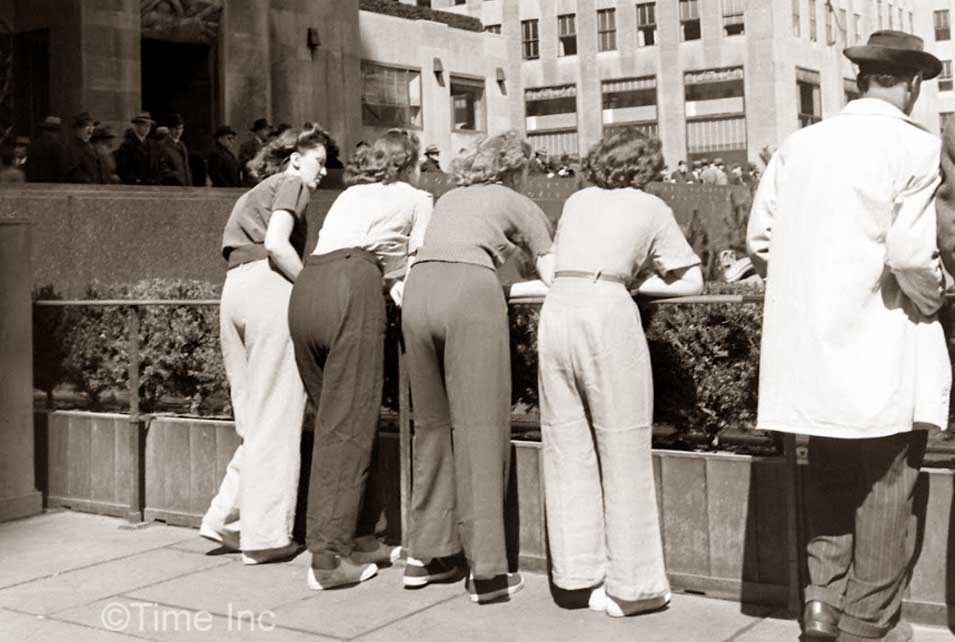 Women were not afraid to wear trousers or pants as this photo by Time Inc shows
THE old joke who wears the trousers refers to those who make the decisions in the family household. Some people like to think it is the woman, others don't agree. However, it is possible that both did in the sixth century BC. Greek geographers suggest that the first people to wear trousers were horse riders from Persia, Central and Eastern Asia. These days there are more than a dozen different types of trousers worn by both men and women to buy when packing your suitcase for the next holiday adventure.
The first woman to wear trousers in modern times was American suffragette  Elizabeth Smith Miller in the 1800s, who fought for the right to vote. However there are images of female horse riders wearing trousers on old ceramics of the time.
Ancient Greeks never liked trousers calling them 'thulakos' or sacks. The Roman never liked them as well, although eventually they gained popularity as military garments.  Initially loose fitting that closed around the ankles, by the 14th century they became more tight looking, and were worn under plate armour.
By 1500 trousers looked much bigger around the thighs and were made from extravagant cloth, often revealing the lining. In time they started to slim down, appearing to hug more around the knee. They became very popular with the working class. It took until the 19th century that they started to resemble the kind of trousers that we know today. This trend was set by Edward VII, who popularised creases in trousers.
Trousers started to take shape at this time
Trousers were viewed as being a "masculine" item – even though both men and women had worn them in olden times. Women were expected to wear long skirts. By the 19th century that changed when they started to wear a type of trousers while horse riding, though they were hidden by a skirt. By the 1950s capri pants and high-waisted cigarette pants were the fashion. Features included flat fronts, side zippers and high waists. However, it was only by the 1970s in the UK that they became standard wear though in some places it was still a taboo to wear them. Bell bottoms in particular were a popular purchase.
But some places in the world still harboured restrictions for women to wear trousers. In France, believe it or not,  it was illegal for women to wear trousers up until 2013. This was because of a law called "decree concerning the cross-dressing of women" which basically said that if a woman wanted to dress like a man, she had to go to the police station to get permission.
Does the style match your needs?
The 1990s saw what became known as the grunge look come into fashion, with ripped jeans and baggy trousers. By 2000 that changed to low rise jeans and skinny jeans. These days there are many types of trousers for men and women. What to consider when buying trousers or pants as they say in America are three things:  Does the style match your body shape and age? Does it fit you? Does the colour complement you? Here is a list for both men and women. Check out below what variety of styles people are currently wearing.
This post contains affiliate links that I earn a small commission from at no cost to you. 
Shooting from the hip – trouser crop for the dedicated men in today's fashion
Pleated trousers – this small detail to your trousers can give them an incredible look. It's a timeless pair of pants for your wardrobe.
Chinos – relaxed style but not too casual. For dressing up go for darker colours like black, navy or charcoal. Good for going out to a pub.
High-waist trousers – ask your grandfather for a pair. Good with crew neck shirts and roll necks and for those looking for the Marlon Brando look.
Wool trousers – stylish trousers for party and office – great alternative to jeans.
Cords – came about in the 1970s and are a great alternative to normal trousers. Good for cold weather. Look nice with a t-shirt and sneakers.
Sweat pants/joggers – comfy luxury clothes which look good with a sweater or t-shirt.
Drawstring Trousers – usually made with lightweight material like joggers. Can be casual or worn for smart casual.
Tracksuit bottoms – perfect for the sporty look. The more designer look can make you look like a million dollars.
Cargo pants – they can come in large pockets if you want. Camel colour is good for the classic look – look good with hoodies and sweaters.
Slim-fit trousers – these can be worn as separates or with a suit – good for the office.
Cropped trousers – offer you a great chance to show off your socks and even roll them up to your ankles for a more funky look.
Exotic styles for women to choose from come begging
Jeans – these are made from tough material that is double stitched along the seams with a strong thread. There are more than 40 different makes of jeans. These include: Bootleg jeans, Baggy jeans, Brazilian low-rise jeans, Skimmer to name a few.
Culottes – knee or slightly longer in length shorts – Pedal pusher or Capri shorts are 3/4 in length with the cuffed hem falling below the knee. There are about 18 different types of shorts ranging from Booty shorts to Jamaican and Bermuda shorts.
Punk Pants – lots of stitching more for decorative reasons.
Tights – often confused with leggings. Difference is that tights extend to cover the foot.
Dungarees – trousers made of thick material with a pocket bib at the back with two straps that can be adjusted.
Jumpsuits or overalls – these are trousers that have a bodice and come with front and back stitching and a line that starts at the neck and goes along the crotch. Overalls are popular with workmen, while jumpsuits are generally worn by children.
Dress pants – most women have these in their wardrobes. These can be suit or part of a suit trousers that can be worn for formal or semi-formal engagements.
Leggings, Treggings, Jeggings and all that jazz
Leggings – made from knitted stretch material, Treggings are like leggings that have the appearance of trousers; and Jeggings are leggings that appear as jeans.
Harem pants – these gather at the waist and at ankles and are held by waistbands with drawstrings – see an example to your right.
Baggy Pants – loose fitting trousers. The same style is replicated in jeans.
Bell Bottoms/Flared Pants – Flares from the knees and pants are fitted at the waist, thighs and hips.
Fatigue Trousers – inspired by military trousers worn by the US military in the Vietnam War. Camouflage fabric, buttoned down cargo pockets and zip fly.
Jodhpur pants – trousers that are loose at the knees.