If you want to enjoy a holiday that's warm and not too humid, not too expensive, then make Portugal your number one destination. The country has so much to offer. Numerous  landscapes and medieval castles to feast your eyes on, steep hills, famous rugged coastlines, and gastronomic delights.
Go now or when the country is in full bloom
If you like it hot and busy then summer is the time to come. Otherwise, the best time to explore Portugal is in spring (March-May), when the country is in bloom. You could also go in autumn (between September and October) when the weather is warm, and many of the crowds have disappeared.
Portugal is not too big. If you are an American, then the size of Portugal is 89 per cent of the State of Kentucky. – 92,226 square kilometres.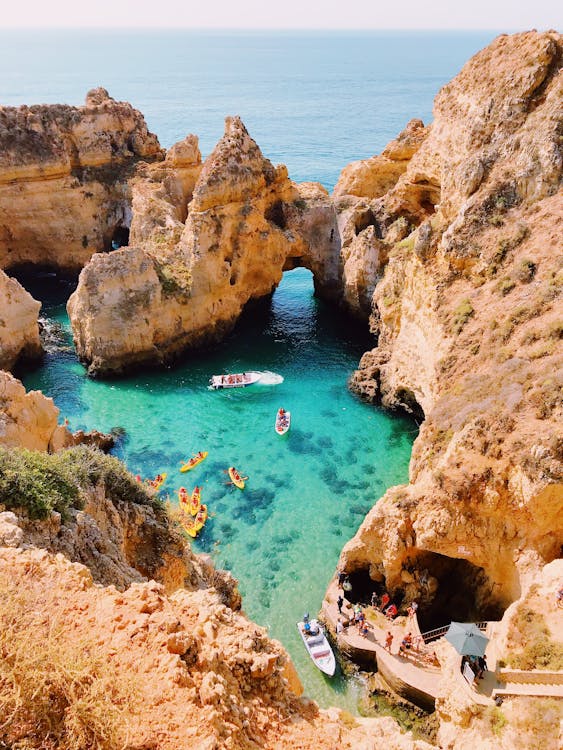 But its size in territory is more than matched in spades with its hospitality. If you get lost and are in need of assistance, people will go out of their way to help you. It is also one of the safest crime wise, and unlike other countries in Europe has escaped terrorist attacks.
Cheaper than other countries
The cost of living In Portugal is a lot more favourable compared to other European countries. Lisbon is particularly popular among US East Coasters, who make weekend trips. New York to Lisbon direct takes six-and-a-half hours and there is only a five-hour time difference.
The average hotel price in Lisbon per night  is around $109, though you can find places cheaper. For three days it is $328, for one week, $765, and two weeks in Lisbon $1,530 (not including taxes).
If you are heading out for a meal and a drink it's not too expensive. Portugal's economy has very low rents and workers get minimum wage. Therefore, a glass very good Portuguese wine would not set you back more than three euros, and dinner in more formal restaurants never comes to more than fifty euros per person.
City of seven hills and much more
Lisbon, the capital of Portugal, is a great place to visit. It is known as the city of seven hills, and is the second oldest city after Athens, but it's also one of the sunniest. In fact, it's the third sunniest city in Europe, next to Valetta in Malta, and Marseille in France. Lisbon enjoys approximately 2,799 hours of sunshine per year. That's at least 300 days of sunshine guaranteed all year. Among popular places to visit is the Azores, a Portuguese archipelago in the middle of the Atlantic Ocean that looks something akin to the mythical landscapes of Avatar.

Five hours away from New York
Just five hours away from New York, the direct flight will transport you to islands containing natural hot springs, volcanic crater lakes and black-sand beaches. There you can indulge in numerous activities ranging from surfing to whale-watching and diving. WayAway search engine found an Air France economy flight ticket at a rock bottom price of $809 US dollars from August 11-13.
Among popular gifts you can purchase in Portugal are things made from cork. The country has the world's largest cork forests, and 70 per cent of cork is exported to other countries. A handbag or wallet made of cork could be ideal holiday gift. If you are into books, Lisbon has the oldest bookstore in the world. Called the Bertrand Bookstore, it has been open since 1732. Portugal has the sun, sea and a coastline with many beaches which have blue flag status. If you like golf, go to the Algarve, for surfing head for the archipelagos of Madeira and Azores.
Food and not too expensive sparkling wine
Portugal is also known for its wine. Lighter wines can be found in Alentejo, it also has Cabernet Sauvignons and Syrahs wine, not to mention its famous sparkling vinho verde. For food, sample the healthy Mediterranean diet, which is heavily influenced by herbs and olive oil.
If you are into cycling or walking, there are plenty National Parks and Reserves. For the more spiritual types, check out the Paths of Fatima. The shrine celebrated its centenary since the apparitions in May 2017, and attracts many worshippers from around the world.
You are in for a treat when you visit
If you are travelling by car, you are in for a treat. Portugal has many old towns, with monasteries, palaces and Manor House's, negotiated across Roman roads, aqueducts and bridges. Look out for the villages of Tomar and Óbidos.
This post contains affiliate links that I earn a small commission from at no cost to you. 
If you like guided tours then check out Travelsphere. For cheap flights and cashback try WayAway and see what they can offer you. There's something for everyone in Portugal and never a dull moment.