The best way for a an older person to carry items is to use a backpack, as that allows them to distribute whatever they are carrying evenly. So let's find the best backpack for seniors out now. In general, lightweight backpacks are recommended for senior citizens, but for those more adventurous, a loaded backpack should not weigh more than 20 per cent of your body weight. Therefore, if you weigh 150 pounds, your pack should not exceed more than 30 pounds.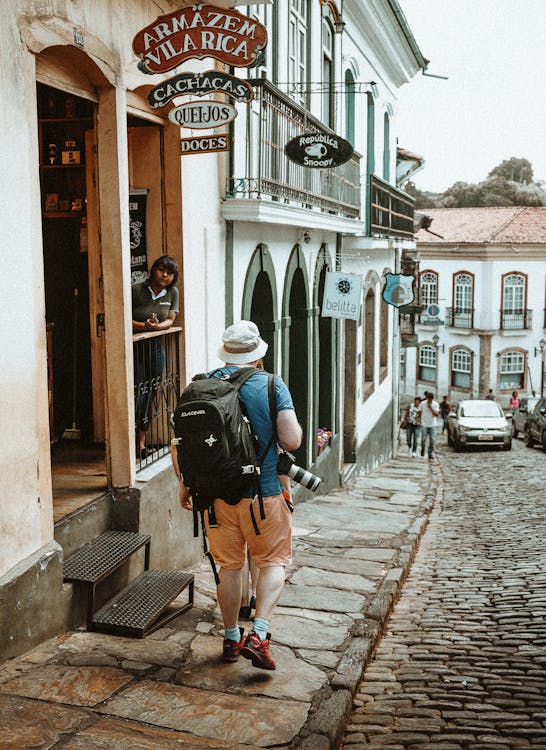 Lightweight backpacks are popular because they have hip belts and sternum straps. Others can be converted into a wheeled backpack for those that have issues with their shoulders or back.
Enjoy a day out with the right choice backpack
Backpacks come in all shapes and sizes and are equipped for different modes of travel. Usually most backpacks can carry loads ranging from 10L (2.5 gal) to 35L (9 gal) but for the popular brands of backpacks, they can hold up to 20-30L (5-8 gal) of a load. Choosing the right one can help a senior enjoy their day out with the minimum of discomfort.
Weight and waterproof is what you need to consider
The choice of backpack will be determined by certain factors. These can be everything from the type of material your backpack is – does it need to be waterproof? Or, what is being carried, the weight of it, and the activity. Even if you have a waterproof backpack, I would still strongly recommend that you bag it up with a zip before putting it in the backpack for extra protection.
Think before you go on that short walk or long hike
You may be going for a short walk, a longer hike or quite a bit of travelling which may need you lifting things up, if say, for example, you are boarding a plane, and need to put it into an overhead storage compartment above your seat. All these considerations need to be taken into account.
The types of backpacks you should be looking for include: lightweight backpacks for short journeys and for running around; to hiking and travel backpacks which are more hard-wearing and enduring.
Things to look out for:
Wide, padded straps which cause less discomfort
Don't go for a backpack with too many compartments, but one with a few, so that you have easy access for what you are looking for
Backpacks that weigh one to two pounds which are lighter to carry and give less back and shoulder pain
Backpacks with a waterproof cover in case it rains
Wheeled backpack give you that extra option if you are struggling to carry something
Sternum straps on backpacks which go across the chest disperse the weight of whatever you are carrying and reduce the pressure on your shoulders.
Hip belts do the same thing, but also provide you with easy access pockets wherein you can store your smartphone, snacks, sunscreen, lip balm, and any other small accessories.
One that has a water bottle holder in case you get dehydrated. Some of the lighter backpacks don't have them.
My THREE best buys are: 
1. Hippo Warehouse I'm old deal with it backpack ruck sack – good value for money
2. Heroic Knight Laptop backpack – superior quality and more business-like
3. Crenze Lightweight foldable backpack – easy on the shoulders
1. Hippo Warehouse I'm Old Deal With It backpack – good value for money
FEATURES
The amazing feature about this backpack is that it's quite nifty for carrying sports stuff for the senior citizen wanting to stay trim. Its dimensions are: 31 x 42 x 21 cm; capacity 18L It's made from polyester, has a zip on the front and is well padded at the back.  It has adjustable shoulder straps, and a good grab handle.
PROS
Has a good strong grab handle and is well padded. Although this one featured is in mustard, it does come in 13 other different colours. This rucksack is quite new and has not had any bad reviews. It is extremely good value for money. It can be despatched within 24-48 hours at week days and has a free post address for free returns.
CONS
There appears to be no Amazon reviews of this product so it is difficult to gauge from customers how good it is. From its appearance it is not that big, takes up to 18 L, so may not be sufficient for a long hike or walk.
CONCLUSION
If I wanted a rucksack for a short trip and one that was not too big I would go for this one. I wouldn't necessarily take it to the office, unless I was going to the gym afterwards. It is lightweight, can carry a few essentials and is very cheap to purchase.
2. HEROIC KNIGHT Laptop Backpack – more business-like, smart and comes at a price
FEATURES
This 15.6 inch black expandable laptop backpack is made of high-quality waterproof Oxford fabric and is quite lightweight. The capacity is from 11.8*18*3 inch to 11.8"*18"*7 inch. The men's backpacks are suitable for 15.6 inch, 15 inch, 14 inch and 13 inch Macbook/laptop computers plus  tablets up to 12.9 inch, 9.7 inch and 7.9 inch.
The stylish backpack has an internal shockproof strap that can secure your laptop and iPad to prevent them from slipping and bumping. Another salient features is that it it has a hidden anti-theft compartment for keeping important items such as wallets, passports, credit cards, earphones. The backpack with laptop compartment can protect your laptop.
The rucksack for men is wear-resistant and shockproof.  The stylish backpack has an internal shockproof strap that can secure your laptop and iPad to prevent them from slipping and bumping. The back panel with its multi-layer sponge padding helps with ventilation and heat removal. The laptop backpack with two wide comfortable shoulder straps made of abundant breathable mesh help relieve stress from your shoulder. The ideal leisure backpack for work, business, travel, and outdoor activities.
PROS
The backpack looks and feels premium and is an Amazon Choice. The overall features are great at this price point.
Had the bag for over a month now. I bought it to fit my 16″ MacBook, and it can easily fit a17″ laptop. It is handy if you are going on short trips for a few days as it has ample space. The bag is very sturdy with plenty of compartments and fine in light rain. Haven't had the opportunity to see how it holds up in heavier rain. Overall the bag is very comfortable on your shoulders and back and I'm very pleased with it.
CONS
There is very little to knock this backpack. The padding is good, however when extended you will lose the padding for your lower back. This was fine for me as I had clothes that padded it out.
CONCLUSION
For safety, security and durability this backpack is for me. Its best feature is that its more than smart enough for me to take to the office. I had to pay extra but I got premium.
3. CRENZE – A lightweight foldable backpack for hiking – and it's easy on the shoulders
FEATURES
Its best quality is that it's a comfortable backpack for both men and women. The shoulder straps have a breathable mesh with sponge padding help relieve the stress from your shoulder. The length of the shoulder straps is adjustable, and two side buckles can keep long accessories in the mesh pockets stable. It is good for camping, mountaineering, walking, cycling and climbing.
The backpack is made with high-quality tear and water-resistant material, providing extra strength and long-lasting performance with the lightest weight possible. Heavy-duty two-way metal zippers across the backpack are convenient to operate on whichever side you prefer. Longevity is further enhanced by bar-tacks at major stress points.
There are multi-compartments and everything looks organised. This backpack features a main zipped compartment, three zipped front pockets, and two side pockets. All compartments provide enough room no matter if it's a day trip or a week-long journey. A separator in the main compartment is convenient enough to help you further organize things. The three front pockets are good for holding small accessories and for easy access. Two side pockets are good for holding water bottles and umbrellas.
This backpack is both lightweight (0.7 Lbs) and roomy (35l) – a great daypack. A true space saver, you can fold the backpack into its own pocket for storage(no more excess baggage fees), and unfold it when you reach your destination. To avoid an overweight charge, simply unfold from your checked bags and use them as a carry-on for your excess baggage. It comes with a one-year warranty. 
PROS
I ordered this for a three-day hike. I wanted something super lightweight but that was capable of holding water, sunscreen, beach towel and food. This backpack really worked for me. Not only was it comfortable on the shoulders, but I found the extra pockets great for holding my water bottle and umbrella. I have used it when walking or going around town to do some shopping. It has also been taken to the gym. When I go on holiday I take it with me, as I can make those little essentials that I may need on a day trip. I liked that it unfolded into a strong proper bag, big enough for all my gear. I was also able to  fold it back and into a small handbag.
CONS
Straps were a bit flimsy, but this was due to it being foldable. When it came to the daily use of carrying things like a iPad Pro, lunch box and a few other small items, the general appearance was that of a saggy haggis, but stuff a wax jacket in it and it fills it out. So, if you are looking for something to fold into a handheld pouch that can fit a wax jacket inside, then crack on, this is for you.  I use it daily for work along with shopping, day trips and holidays. Whether it will stand up to the riggers of my daily life, time will tell.
CONCLUSION
At the end of the day, comfort has to come first when travelling whether you are a young person or a senior citizen. So, it is worth asking the questions first, so that you don't come home with back or shoulder injuries. Enjoy your trip, and if you have any travelling experiences that you want to share, please let us know.