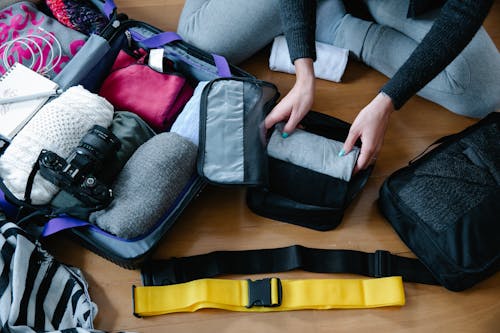 Luggage straps can provide you with some peace of mind when travelling. They help keep your suitcase closed and secure, so you don't have to worry about losing anything.
From my experience, I always use luggage straps as they work as an extra safety measure in case of a broken zipper.
Zippers can often let you down if they are worn or the case is overpacked, especially on hard-shell suitcases. Always good to also put a belt around a soft-shell case.
Some belts have TSA-approved locks offering another layer of security. My belt is colourful and personalised, so that my bag is easy to pick out on the airport carousel.
Make sure it's made from heavy-duty material
Make sure you buy suitcase straps made from heavy-duty materials like polyester and nylon. They are durable, water-resistant, and can deal with high wear and tear.
For hard-sided luggage that has some sort of clasp on the top, wrap the strap around the luggage so that it keeps it closed. You can also use a luggage strap to connect two items of baggage as one.
Cinch it tight, but don't damage the luggage
Place the buckle in the middle of the front or back side. Cinch the strap tight, but not so much that it bends the luggage.
Luggage straps are very helpful in securing and ensuring that your bags won't accidentally pop open during the rough and tumble of baggage handlers at airports.
Last year world-wide 36 million bags were lost by the airlines, 18% of which were damaged.
Whatever takes your fancy and you choose to buy, I will earn a small commission, which will not affect your price.
Here's three of my best luggage straps
FEATURES
Your best mate on your domestic and overseas travels is this Amazon Choice heavy-duty suitcase belt. Its size is: length: 40″-74″ / 100-188cm; Belt width: 2″ / 5cm; Universal luggage strap fit for 20″-34″ suitcase. The belt is adjustable, and the buckle design makes it easy to close with its quick release clip. It does not snap when bent inward or outward. It provides a simple way to attach smaller luggage pieces to wheeled luggage, or secure your luggage with the strap during travel. The bright colors make it easy  to identify on the airport baggage carousel.
PROS
The strap on this belt is easy to adjust and is very sturdy, and has a great buckle design which makes it easy to close. The vibrant colours certainly gets it noticed.

CONS
Works fine if you tighten before closing by using the inner part if the strap, but not what I was expecting! These are very basic luggage straps. They are not too heavy, which is good, but tricky to tighten around a bag/suitcase, and the buckles are quite  basic, although they survived a couple of flights so far. The strap is good but the plastic buckles are not too durable and they can easily break.
CONCLUSION
The strap gets noticed straight away, which makes it a plus when travelling. Most reviewers have given the belt a thumbs up for being sturdy and up for the job, As with all products, you get the odd defective one. It's worth taking your chance on this one.
FEATURES
Nobody can get into this suitcase with this strap. It has been engineered in such a way that a blocking mechanism prevents anyone from taking off the strap without the code. Thanks to the TSA Lock you can travel to and from the USA.  The strap is 5made from polypropylene and ABS 5polypropylene + 35 percent ABS wide with a three dial locking buckle. It adjusts to fit bags up to 182 cm (72 Inch).
PROS
Similar with what I had before, I am very pleased with this one. I been using it now for almost a year and it is performing very well, it is a perfect fit for my luggage.
These are well built, and give you peace of mind. They also look good and help you spot your case easily.
Nothing to dislike. It is sturdy, really effective, and simple to use. Even as a luggage tag and it is still useful. Very simple to set the code, and it brings an additional safety measure to your luggage.
Bought a cheaper version which came off first use and had to throw it in the bin at the airport. This was a bit pricey, but at least it holds together, recognisable on the airport conveyor belt, and a bit of extra security for case.
Can't go wrong with branded quality. Does the job 100% as expected.
It fits properly, but you have to be careful on airplanes: it came loose and appeared on the tape. It would be advisable to pass it through a handle to avoid losses.
Solid looking strap and clasp, but the plastic slider that takes up the extra belt broke after 1 trip, rendering it prone to catching on future trips. Not the branded quality I had expected.
While tightly strapped vertically, I carried my luggage up a hill on the street on my way to the airport. It broke without me noticing. It seemed to be in constant contact with the floor and rubbing all along. Sorry to have wasted so much money for this 15 minutes of use.
CONCLUSION
If you want a belt that stops anyone getting into your suitcase, then this strap with its  blocking mechanism does the job. Without knowing the code, you will never get in. It may be a bit pricier than the others, but this branded item does what is expected of it. Certainly worth buying, if you are taking on holiday something of value.
FEATURES
If you want something of quality, then this PU leather strap can withstand severe squeezing and collisions during travel. With its release buckle closure it can give you suitcase ultimate protection. Strap Size: Belt Length: 38.6″ / 98cm; Belt width: 1.2″ / 3cm; PU leather: 3.55″ / 9cm; universal luggage straps for suitcases to fit most size suitcases. 
The suitcase straps belt is adjustable and so is the elastic strap, It can easily stretch around larger bags or you can tighten it to keep your hand luggage to be strapped securely to the handles of your wheeled suitcase, without twisting or slipping.
The adjustable suitcases straps and belts can be used for luggage, suitcases, tool cases, bags, rucksacks etc. Perfect travel gift for your family and friends.
NO REVIEWS
CONCLUSION
This quality baggage strap and its accessories keeps your baggage in check. It can easily stretch around larger bags without twisting or slipping. A good and long-lasting bargain.