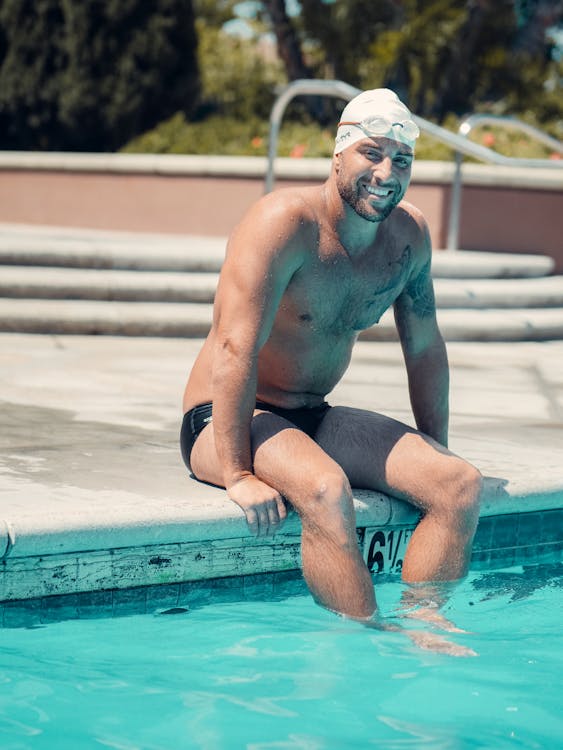 The best type of swimming trunks you want to take to the beach are those made from polyester.
They have a comfortable feel, are wrinkle resistant and have quick-drying qualities. They also usually offer UPF 50 sun protection.
Nylon, polyester or Lycra
Other options are nylon, which stretches better and Lycra which is regarded as a longer-lasting material.
Swimming trunks usually have a soft mesh lining, which protects the skin from getting any rash from the wet fabric.
Your skin can breathe
It makes your time in the water and more importantly out of the water and drying, free of any sort of discomfort. The net or mesh lining also makes sure your skin can breathe by providing it with proper air circulation.
Comfort is a key and dark color to stay safe
If you are swimming in the ocean, it is preferable to avoid light-colored swimming trunks, which sharks do not like. Stick with dark blue or black to stay safe. There are two types of swimming trunks – one with an elastic waist, the other with a zipper or an adjustable string for closure.
Whatever takes your fancy and you choose to buy, I will earn a small commission, which will not affect your price.
The different categories of men's swim trunks include:
Board shorts are longer and droopier at the waist, creating a more casual or sporty look

Jammers are a style of swimsuit worn by male swimmers, used in competition to obtain speed advantages. They are generally made of nylon and Lycra or spandex material

Wetsuits insulate swimmers, or help them retain body heat. This helps swimmers avoid hypothermia. Wetsuits are made from a rubber called neoprene.  

Swim briefs provide a snug fit, ensuring they stay in place during physical activity like sports.
My top three swimming trunks are:
FEATURES
One of the main qualities of these men's jammers which are made from high elastic and are chlorine resistant, is that they stand up to long-term use.
They stretch and don't deform. They are ergonomic and come with a liner in the crotch area, which gives additional comfort. 
The body is  82% Polyester, 18% Spandex; Lining: 90% Polyester, 10% Spandex. It has an adjustable drawstring. The jammer is lightweight, quick-drying and offers freedom of movement.
The jammer gives UPF 50+ sun protection by blocking UV rays, and is suitable for daily workouts, water activities, triathlon, and beach.
PROS
The material is known for its elasticity. It's a regarded as a good product as it provides a good fit. I usually wear Bermuda shorts but these were comfortable and I have no complaints at all.
CONS
Another customer said the fit was comfy, but this was his third pair. He felt that the chlorine in the pool was destroying his shorts. Perhaps he didn't check his size on the chart above to make sure he had the right fit and it may have been pulling.
CONCLUSION
If you are the athletic type these will look good on you and will help you excel in your sport due to their elasticity. If you only wear it occasionally, I guess it will work for you – not sure how long it would last if you put it through its paces on a regular basis.
FEATURES
These shorts tick all the boxes. They are lightweight, are comfortable to swim in, and dry very quickly. Made of 100% nylon with mesh lining, two side pockets and one back pocket with a gap, you wouldn't even think of getting them wet in a pool. Good for swimming, surfing, walking and running on the beach.
PROS
The great thing about these swimming shorts apart from the fact they looked really good on me, was they were a perfect fit.  They were comfortable and also dried up after an afternoon on the beach pretty quickly. Effectively they did everything that said on the tin and were reasonably priced.
CONS
Great quality, let down only by Amazons suggestion to get size XL. Absolutely huge – I am 33 inch waist and 5 foot 9 inches so I could have ordered Size M. I found these a bit snug around the vital equipment when sitting down (didn't have time to give them a full road test before the holiday). They are really nice quality though, will order replacements the next size up and recycle these ones. A bit swishy when walking around but they dry quick.
CONCLUSION
The good thing about these swim shorts was there were days when I went down to the beach and never ventured into the sea. I felt really casual wearing them and even ventured into town with them. They had pockets and one back flap pocket where I put some of my cash. Smart and dry, but could get wet and dry quickly.
FEATURES
An Amazon Choice pair of swimming shorts tells you a lot. This one has two side pockets, one back pocket which has enough large space for your phone and wallet. The side pockets can easily bear the weight of the phone without sagging.
These shorts are good for surfing and have an adjustable waist with an elastic band for drawstring. A 5-8 cm stretch is possible meaning they are easy to tighten and there's no fear of them falling off.
They are quick dry, lightweight, flexible, breathable and the fabric is comfortable. Perfect for swimming, surfing, walking, running,  beach volleyball, water sports, casual wear or holiday beach activities.
PROS
A friend of mine bought one for her husband and she was so impressed with them she bought another pair with another colour. Amazon rate these shorts as one of their top choices. They are great for the pool or jacuzzi. They are perfect for pool and poolside relaxation and the pockets are strong so you don't lose your belongings.
CONS
They fit nicely but the actual green colour is way brighter than shown, according to one customer. When it arrived, she said the zip on the back pocket was defective and couldn't open. That may have also accounted for it not being a comfortable fit.
CONCLUSION
Occasionally things may go wrong with deliveries or when things are made. But these shorts get a lot of glowing feedback which make it an Amazon Choice. They look very smart whether in the pool or just by it relaxing. The colour is also attractive, though you can get it in shades or blue and red.