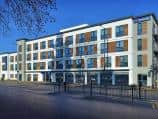 Accommodation: 1 Greenhill Way, Harrow HA1 1LE Phone: 0871 984 6526
Price: We paid £87.99 for two adults (can be cheaper depending on time of year and availability)
Built: Operating since 2018
Number of bedrooms: 101 rooms
My rating: 8 out of 10
I WANTED to see a football match at Wembley Stadium in London and had travelled by car from Manchester. I didn't want to pay the earth for a room, and I needed somewhere not too expensive to park my car for the night.
The newly-built Travelodge in Harrow, five minutes walk from the town centre was my answer. The double room for two adults cost me £87.99 and that came with comfy king size beds and parking was just across the road. When I got there the staff on reception were very friendly, and I couldn't wait to unpack and shower.
Needed to clean up before the game
It had been a long drive on the M1 motorway with the usual roadworks and I needed to clean up before going to the match. I had a hot shower, and the hand, hair and body wash was free, which was nice. I then got onto my mobile to check the time of the game.
The hotel gave me 30 minutes free WiFi with me having to pay an extra £3 for 24 hours, if  I wanted it. There was a hairdryer in my room which was useful, and once I had combed my hair I was able to relax and lie back on my four plump pillows with a cup of coffee which I had made in the room and watch some TV sports highlights before I headed off to the station.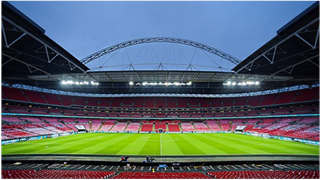 Three stops on the train to Wembley Stadium
Harrow on the Hill Station is on the Metropolitan Line and less than 10 minutes walk from Traveldodge. For me that was a big plus. From there it was only three stops to Wembley Park, where it's a brisk 15-minute walk from the Underground to the actual stadium. While I was watching the game my wife was shopping at the London Outlet  Centre which is right next to the stadium. It has some of the major fashion brands there which was another bonus, plus some good eateries. In fact, we had a meal at Wagamama afterwards.
Harrow town centre also has a great range of shops located in St Ann's and St George's shopping centres. Both of them provide car parks, though we didn't need to use them as our car park was just minutes away from the shops and the Travelodge.
The iconic Harrow School
After we had dropped off our shopping and had a short rest, we decided to explore Harrow on foot. From the station, it's another 15-minute walk up the hill to the famous Harrow School where Winston Churchill was educated. He was among seven British prime ministers who went there including Stanley Baldwin and Robert Peel. The first prime minister of India, Jawaharlal Nehru also studied there. Had we booked in advance, we could have gone on a tour of the school.
Soup maker buried in St Mary's cemetery
Next to the famous public school is St Mary's Church, which dates back to 1094. It has a small cemetery where John Lyon, founder of Harrow School is buried as is Thomas Blackwell, of Crosse and Blackwell, the makers of the world-renowned soup.
By now we had built up quite an appetite. Fortunately, opposite the school there are a couple of good restaurants. The Old Etonian served us really well with three courses at just under £25 a head. After that, we sneaked a pint at The Castle Inn, where young Winston used to go, before returning to our Travelodge.
Bacon and free range egg scrambled for breakfast
Before leaving the Travelodge we had a lovely breakfast from the Bar Cafe, which was delivered to our table. We were also able to eat as much as we wanted, so we feasted on delicious back bacon, free range scrambled egg, and tasty Cumberland sausages. If you have children, two kids up to the age of 15 or under are able to eat completely free for every full-paying adult. Due to social distancing we had to book our time slot in advance and we were checked in by a member of staff.
Great budget hotel
Harrow was a great place to visit and I'm sure to be back soon. Travelodge was a budget hotel so I wasn't expecting the red carpet treatment, even though we got one. Would definitely recommend it. But if you want to splash out, Harrow has plenty more pricey options.
If you have stayed at Travelodge in Harrow I'd be curious to hear what you have to say. We always like to hear your feedback.
Photos of Harrow School and St Mary's Church by Anna Batoryk