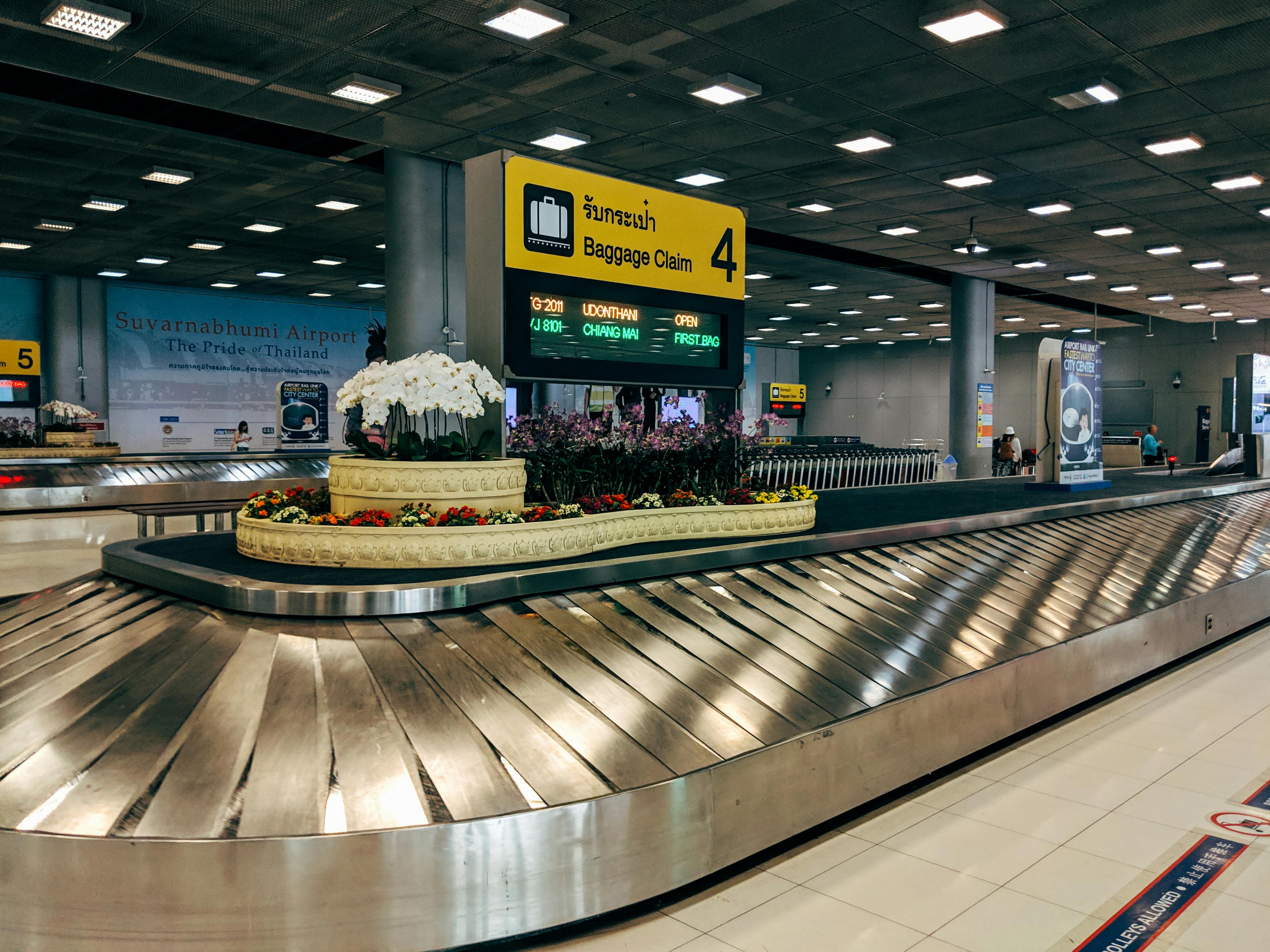 Have you lost your suitcase? There are many ways to prevent that from happening.                                                                                                                                     Photo by  Markus Winkler
GLOBALLY more than 4.3 billion bags pass through our airports of which 28 million go missing or get misdirected. According to LuggageHero, that's about one in every 250 bags. The good news is that airlines will recover 97 per cent of mishandled bags within two days. But if you don't want to be part of that figure that never see's your suitcase again, here are a few helpful tips that increases your odds to make sure that your suitcase never gets lost.
Make sure it stands out
From my own experience, when I look to find my suitcase hurtling around the airport carousel is to make sure it stands out. This means I buy a suitcase that is distinguishable. Not a brown, black or blue suitcase that lots of people buy, but maybe an orange, pink, mango or bright red one.
This post contains affiliate links that I earn a small commission from at no cost to you. 
In case, pardon the pun, you feel that other people might be thinking the same, the next best thing to do is put lots of stickers on it, to make your suitcase more identifiable.
Name tags  can help find it
And to top it all off, large name tags with your details on it, so that when you do pick up your luggage you can make sure you are not taking someone else's. Just to be super safe, if your tag falls off your suitcase while it is being shunted around, it's worth to put your details inside as well.
GPS tracker linked to app
Due to modern technology, tags now are a lot more sophisticated, and you can get some with a GPS tracker which you can link to your smartphone app, which makes it a lot more easier to track and find. If you have an idea where your luggage is then it can help airline staff find it so much quicker and it means you get less stressed out.
Currently the best devices on the market are Tile and TrakDot. You can put your tile not just on your suitcase, but on keys and anything else that is precious and that you feel might get lost.
Precious items go in hand luggage and stay with you
Remember that it is not just a question of things getting lost, but expensive things in suitcases can also get stolen. Therefore, even with the best protection, as suitcases sometimes have to be opened by airline staff to check if they contain dangerous items, it is best that things like laptops, cameras, jewellery and other precious items are taken with you on the plane in hand luggage. Most importantly don't leave medication in your suitcase as it could cause you problems further down the line when you have to take it.
According to the Department of Transport in UK, more than 1 million bags were stolen in 2018, which meant that more than $1.3 billion dollars worth of valuables were taken.
Make it a Minnie Mouse
Over the years I have used my three safari looking suitcases when travelling, so I can spot them a mile away. I have seen other people with  Mickey or Minnie Mouse suitcases, Union Jacks, all sorts.
The beauty of having a suitcase that stands out is as long as the luggage handlers take them off the plane first, I know that I can pick them up quickly.
It's not your suitcase so leave this one alone
Nothing is more embarrassing, and I have seen it many times, is when someone picks up another person's suitcase and then they start arguing over it. So for God's sake, make sure you know it is yours, otherwise you might get accused of taking someone else's case.
Belt up your bulging suitcases
Many people stuff their suitcases with too many clothes or other items, so suitcases are bulging and can come apart. This can lead to all sorts of problems such as items and bags going missing. If you do overload your luggage it is always useful to strap your suitcase with a large strong belt, so that if the lock gives way, there is something to hold it together. Make sure it is a bright color, to again make your suitcase easier to spot on the carousel.
Check-in early so that nothing gets left behind
It is always good to check-in early for your flight as that means your luggage will find its way to the loading bay first. If you are running late then there is the chance that your suitcase may get left behind. Remember not to overload your suitcase as you may have to pay extra to get it onboard. Also, consider whether you should opt for a hard shelled suitcase which may prove to be safer than a soft one that can be cut open with a knife.
Non-stop is better than changing flights
It is also better to take a direct non-stop flight rather than one where you keep changing planes, as that again, creates the chance of luggage getting mislaid. There's nothing worse than arriving at your holiday destination, and having to spend your first day shopping for clothes because you have nothing to wear. Statistics from LuggageHero show that Delta Airlines, Southwest Airlines, Spirit and United Airlines lost or mishandled around three to four bags for every 1,000 pieces. Sita, an international IT provider to the industry that monitors global baggage handling, claims that nearly half of all bags that go astray happen during flight transfers.
Airlines take action to reduce lost luggage
The airline industry is trying to make amends in dealing with the problem of lost and misplaced luggage. Some airlines such as Delta have now incorporated a tiny RFID (radio frequency identification) in the tag that goes around the luggage handle. This enables them to track your luggage and know where it is. Delta now claim they have a 99 per cent record when it comes to looking after your luggage. In 2019 the International Air Transport Association (Iata) brought in a regulation called  Resolution 753 aimed at forcing airports and airlines to take more care of your luggage. This means checking bags at several points during the journey and when luggage is loaded onto a plane during a transfer.
Finally, if all else fails, travel insurance keeps you covered
So, in a nutshell, it's worth thinking about doing all the above things mentioned. A nice bright sturdy hard-shelled suitcase, with plenty of stickers, tags, some which can be tracked, belt it if it is bulging, leave your address inside in case the label outside goes missing, put your valuables in your hand luggage so that you can keep an eye on it. Luckily, I have never lost a suitcase in all my travels, but also remember that it's always worth having travel insurance to keep you covered.
Value your feedback
If you are a frequent traveler, or have a story to tell regarding either losing your luggage or getting it recovered, we would love to hear from you. We always value your feedback.