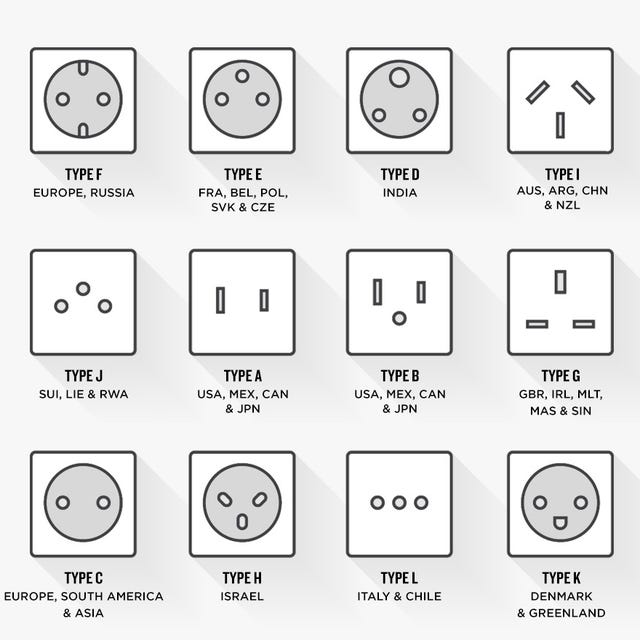 THE first thing you want to do when you reach your holiday destination is to juice up your phone, camera and iPad. So you put the plug in and it doesn't fit. If you're from the UK, you suddenly find that there are two or three round holes in the socket. So what's going on?
The answer is that over the last century and a bit, countries have been building their own electricity systems and there are 15 different types of plugs in use around the world. If you don't believe me, look at some of the types in the diagram above and see which one relates to you and which adapter you need to fix the problem.
Among the more popular ones are:
The British electrical plug is a Type G, which has a three-pin rectangular blade (13 A/230-240 V 50 Hz earthed and fused).
The domestic Europlug is flat with a two-pole round pin (250 V and currents up to 2.5 A).
In the US there are two types of plugs, A and B. A has two flat parallel pins and B has two flat parallel pins and a ground pin (120V and 60Hz).
China uses three types – A, C and I. A has two flat parallel pins, C comes with two round pins and I has three flat pins in a triangular pattern.
This post contains affiliate links that I earn a small commission from at no cost to you. 
Find the one that is most compatible
Once you know the plug type of the country you are visiting, then you need to find a travel adapter that can make your plug compatible. The one above left is perfect for UK plugs when visiting European countries. If you are travelling to the United States from the UK, then this portable Lencent or similar make plug adapter on your right is for Type B. Like the others, it can charge your smartphone, laptop, and can power hairdryers and other similar devices. You can also use this adapter in Canada, Mexico, Thailand, Colombia, and many other countries.
The all-in one universal adapter does the trick
There are now more comprehensive adapters or universal ones which can cover multiple countries such as the one below and which works for more than 150 countries worldwide including US, EU, UK, AU. These can be used to power mobile phones and low power small household appliances.
Check the power and voltage
When you buy a travel adapter make sure you check the power and the voltage. If you buy one from America or Canada, it only takes 120 volts and when you plug it into an Australian or European outlet it may damage your hairdryer. Therefore, it's necessary to buy a voltage converter to go with your power point adapter. If you get an all-in-one adapter and converter, this will solve your problem.  Certain models come with multiple USB ports which allows you to charge up to six devices in one go, and if by accident you leave your phone charger at home, some adapters can cover that as well.
Make sure your plug meets safety standards
Of all the plugs in the world, the British plug is regarded as the safest in the world because the sockets have shutters that stop children from forcing in paperclips and getting a nasty shock. They should also carry a British Standard BS8546 number on them. They can also be certified by FCC, CE, ICE and ROHS. Good quality adapters are made from PC materials which makes them fire-resistant, and they come with a 12-month warranty. Some makes make sure that the total wattage doesn't exceed 200, automatically shutting down so that there is no short-circuiting and overheating, which keeps your appliance safe. It is always good to follow the manufacturer's guidelines when fitting a conversion plug. It is not recommended to use them long-term or continuous  use.
Always useful to bring an extra charger with you
Most hotels provide two or three outlets per room, so if you have many electrical devices that need charging, it's always useful to bring more than one adapter when going on holiday. Many coaches in Europe, for instance, have power outlets or USB slots, so the opportunity is also there for juicing up your equipment. One person on Twitter called Sasha from Nottingham caused a sensation when she wrote how she got round not having more than one  adapter. She wrote: "Am I the only person who takes an extension lead on holiday instead of taking a dozen plug adapters." Her hack being to plug one adapter into the extension lead, see below, and then you have multiple UK-style outlets to use.
Below is a list of countries and the adapter type plug plus voltage used in the country and region.
| Country / Region | Adapter plug Type in Country / Region | Voltage in Country / Region |
| --- | --- | --- |
| Abu Dhabi | G | 230 V |
| Afghanistan | C, F | 220 V |
| Albania | C, F | 230 V |
| Algeria | C, F | 230 V |
| American Samoa | A, B, F, I | 120 V |
| Andorra | C, F | 230 V |
| Angola | C | 220 V |
| Anguilla | A, B | 110 V |
| Antigua & Barbuda | A, B | 230 V |
| Argentina | C, I | 220 V |
| Armenia | C, F | 230 V |
| Aruba | A, B, F | 120 V |
| Australia | I | 230 V |
| Austria | C, F | 230 V |
| Azerbaijan | C, F | 220 V |
| Azores | B, C, F | 230 V |
| Bahamas | A, B | 120 V |
| Bahrain | G | 230 V |
| Balearic Islands | C, F | 230 V |
| Bangladesh | A, C, D, G, K | 220 V |
| Barbados | A, B | 115 V |
| Belarus | C, F | 220 V |
| Belgium | C, E | 230 V |
| Belize | A, B, G | 110 V / 220 V |
| Benin | C, E | 220 V |
| Bermuda | A, B | 120 V |
| Bhutan | C, D, G | 230 V |
| Bolivia | A, C | 230 V |
| Bonaire | A, C | 127 V |
| Bosnia & Herzegovina | C, F | 230 V |
| Botswana | D, G | 230 V |
| Brazil | C, N | 127 V / 220 V |
| British Virgin Islands | A, B | 110 V |
| Brunei | G | 240 V |
| Bulgaria | C, F | 230 V |
| Burkina Faso | C, E | 220 V |
| Burma/Myanmar | A, C, D, G, I | 230 V |
| Burundi | C, E | 220 V |
| Cambodia | A, C, G | 230 V |
| Cameroon | C, E | 220 V |
| Canada | A, B | 120 V |
| Canary Islands | C, E, F | 230 V |
| Cape Verde | C, F | 230 V |
| Cayman Islands | A, B | 120 V |
| Central African Republic | C, E | 220 V |
| Chad | C, D, E, F | 220 V |
| Channel Islands | C, G | 230 V |
| Chile | C, L | 220 V |
| China | A, C, I | 220 V |
| Christmas Island | I | 230 V |
| Cocos Islands | I | 230 V |
| Colombia | A, B | 110 V |
| Comoros | C, E | 220 V |
| Congo, Democratic Republic | C, D, E | 220 V |
| Congo | C, E | 230 V |
| Cook Islands | I | 240 V |
| Costa Rica | A, B | 120 V |
| Ivory Coast | C, E | 220 V |
| Croatia | C, F | 230 V |
| Cuba | A, B, C, L | 110 V / 220 V |
| Curaçao | A, B | 127 V |
| Cyprus | G | 230 V |
| Cyprus, North | G | 230 V |
| Czech Republic | C, E | 230 V |
| Denmark | C, E, F, K | 230 V |
| Djibouti | C, E | 220 V |
| Dominica | D, G | 230 V |
| Dominican Republic | A, B | 120 V |
| Dubai | G | 230 V |
| East Timor | C, E, F, I | 220 V |
| Ecuador | A, B | 120 V |
| Egypt | C, F | 220 V |
| El Salvador | A, B | 120 V |
| England | G | 230 V |
| Equatorial Guinea | C, E | 220 V |
| Eritrea | C, L | 230 V |
| Estonia | C, F | 230 V |
| Ethiopia | C, F | 220 V |
| Faeroe Islands | C, E, F, K | 230 V |
| Falkland Islands | G | 240 V |
| Fiji | I | 240 V |
| Finland | C, F | 230 V |
| France | C, E | 230 V |
| French Guiana | C, D, E | 220 V |
| Gabon | C | 220 V |
| Gambia | G | 230 V |
| Gaza Strip | C, H | 230 V |
| Georgia | C, F | 220 V |
| Germany | C, F | 230 V |
| Ghana | D, G | 230 V |
| Gibraltar | G | 230 V |
| Great Britain | G | 230 V |
| Greece | C, F | 230 V |
| Greenland | C, E, F, K | 230 V |
| Grenada | G | 230 V |
| Guadeloupe | C, E | 230 V |
| Guam | A, B | 110 V |
| Guatemala | A, B | 120 V |
| Guinea | C, F, K | 220 V |
| Guinea-Bissau | C | 220 V |
| Guyana | A, B, D, G | 120 V / 240 V |
| Haiti | A, B | 110 V |
| Honduras | A, B | 120 V |
| Hong Kong | G | 220 V |
| Hungary | C, F | 230 V |
| Iceland | C, F | 230 V |
| India | C, D, M | 230 V |
| Indonesia | C, F | 230 V |
| Iran | C, F | 230 V |
| Iraq | C, D, G | 230 V |
| Ireland | G | 230 V |
| Ireland, Northern | G | 230 V |
| Isle of Man | C, G | 230 V |
| Israel | C, H | 230 V |
| Italy | C, F, L | 230 V |
| Jamaica | A, B | 110 V |
| Japan | A, B | 100 V |
| Jordan | C, D, F, G, J | 230 V |
| Kazakhstan | C, F | 220 V |
| Kenya | G | 240 V |
| Kiribati | I | 240 V |
| Korea, North | C | 220 V |
| Korea, South | C, F | 220 V |
| Kosovo | C, F | 230 V |
| Kuwait | G | 240 V |
| Kyrgyzstan | C, F | 220 V |
| Laos | A, B, C, E, F | 230 V |
| Latvia | C, F | 230 V |
| Lebanon | C, D, G | 230 V |
| Lesotho | M | 220 V |
| Liberia | A, B | 120 V |
| Libya | C, L | 230 V |
| Liechtenstein | C, J | 230 V |
| Lithuania | C, F | 230 V |
| Luxembourg | C, F | 230 V |
| Macau | G | 220 V |
| Macedonia | C, F | 230 V |
| Madagascar | C, E | 220 V |
| Madeira | C, F | 230 V |
| Malawi | G | 230 V |
| Malaysia | G | 240 V |
| Maldives | C, D, G, J, K, L | 230 V |
| Mali | C, E | 220 V |
| Malta | G | 230 V |
| Marshall Islands | A, B | 120 V |
| Martinique | C, D, E | 220 V |
| Mauritania | C | 220 V |
| Mauritius | C, G | 230 V |
| Mayotte | C, E | 230 V |
| Mexico | A, B | 127 V |
| Micronesia | A, B | 120 V |
| Moldova | C, F | 230 V |
| Monaco | C, E, F | 230 V |
| Mongolia | C, E | 230 V |
| Montenegro | C, F | 230 V |
| Montserrat | A, B | 230 V |
| Morocco | C, E | 220 V |
| Mozambique | C, F, M | 220 V |
| Namibia | D, M | 220 V |
| Nauru | I | 240 V |
| Nepal | C, D, M | 230 V |
| Netherlands | C, F | 230 V |
| New Caledonia | C, F | 220 V |
| New Zealand | I | 230 V |
| Nicaragua | A | 120 V |
| Niger | C, D, E, F | 220 V |
| Nigeria | D, G | 230 V |
| Niue | I | 230 V |
| Norfolk Island | I | 230 V |
| North Cyprus | G | 230 V |
| Northern Ireland | G | 230 V |
| North Korea | C | 220 V |
| Norway | C, F | 230 V |
| Oman | G | 240 V |
| Pakistan | C, D | 230 V |
| Palau | A, B | 120 V |
| Palestine | C, H | 230 V |
| Panama | A, B | 120 V |
| Papua New Guinea | I | 240 V |
| Paraguay | C | 220 V |
| Peru | A, C | 220 V |
| Philippines | A, B, C | 220 V |
| Pitcairn Islands | I | 230 V |
| Poland | C, E | 230 V |
| Portugal | C, F | 230 V |
| Puerto Rico | A, B | 120 V |
| Qatar | G | 240 V |
| Réunion | C, E | 230 V |
| Romania | C, F | 230 V |
| Russia | C, F | 220 V |
| Rwanda | C, J | 230 V |
| Saba | A, B | 110 V |
| Saint Barthélemy | C, E | 230 V |
| Saint Kitts and Nevis | D, G | 230 V |
| Saint Lucia | G | 230 V |
| Saint Martin | C, E | 220 V |
| Saint Helena | G | 230 V |
| Sint Eustatius | A, B, C, F | 110 V / 220 V |
| Sint Maarten | A, B | 110 V |
| Saint Vincent & Grenadines | A, B, G | 110 V / 230 V |
| Samoa | I | 230 V |
| San Marino | C, F, L | 230 V |
| São Tomé & Príncipe | C, F | 230 V |
| Saudi Arabia | G | 230 V |
| Scotland | G | 230 V |
| Senegal | C, D, E, K | 230 V |
| Serbia | C, F | 230 V |
| Seychelles | G | 240 V |
| Sierra Leone | D, G | 230 V |
| Singapore | G | 230 V |
| Slovakia | C, E | 230 V |
| Slovenia | C, F | 230 V |
| Solomon Islands | G, I | 230 V |
| Somalia | C | 220 V |
| Somaliland | C | 220 V |
| South Africa | C, D, M, N | 230 V |
| South Korea | C, F | 220 V |
| South Sudan | C, D | 230 V |
| Spain | C, F | 230 V |
| Sri Lanka | D, G | 230 V |
| Sudan | C, D | 230 V |
| Suriname | A, B, C, F | 127 V / 230 V |
| Swaziland | M | 230 V |
| Sweden | C, F | 230 V |
| Switzerland | C, J | 230 V |
| Syria | C, E, L | 220 V |
| Tahiti | C, E | 220 V |
| Taiwan | A, B | 110 V |
| Tajikistan | C, F | 220 V |
| Tanzania | D, G | 230 V |
| Thailand | A, B, C, O | 230 V |
| Togo | C | 220 V |
| Tokelau | I | 230 V |
| Tonga | I | 240 V |
| Trinidad & Tobago | A, B | 115 V |
| Tunisia | C, E | 230 V |
| Turkey | C, F | 230 V |
| Turkmenistan | C, F | 220 V |
| Turks & Caicos Islands | A, B | 120 V |
| Tuvalu | I | 230 V |
| Uganda | G | 240 V |
| Ukraine | C, F | 230 V |
| United Arab Emirates | G | 230 V |
| United Kingdom | G | 230 V |
| United States of America | A, B | 120 V |
| United States Virgin Islands | A, B | 110 V |
| Uruguay | C, F, L | 220 V |
| Uzbekistan | C, F | 220 V |
| Vanuatu | I | 230 V |
| Vatican City | C, F, L | 230 V |
| Venezuela | A, B | 120 V |
| Vietnam | A, C, D | 220 V |
| Virgin Islands, British | A, B | 110 V |
| Virgin Islands, United States | A, B | 110 V |
| Wales | G | 230 V |
| Yemen | A, D, G | 230 V |
| Zambia | C, D, G | 230 V |
| Zimbabwe | D, G | 240 V |